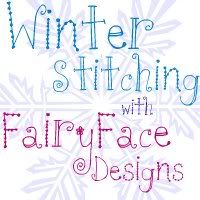 Isn't that a great name? I just love it to pieces. Sarah over at Fairy Face Designs has created a
link-up
so we can all share our ongoing project lists with one another!
So....here comes mine.
1) Summer Splendor Quilt
I have all the fabric, 2 copies of the pattern (one to write on and one to keep nice and pretty) and my list of color selections.
2) Train Quilt
There is no intended recipient of this quilt as of yet. I had some train fabric in my stash and I enjoyed making the
Sock Monkey Quilt
so the plan is to use the same pattern, but with a train theme.
3) Christmas Quilt (from 2010)
I made this quilt last year (it was my first) and I cut the binding too short, so....I need to add some more and do it right but I just dread it, so it just sits, waiting for attention. The sad thing is this could be crossed off of the list in less than 20 minutes because I have already hand sewed the binding down, except in the spot of the "short" binding.
4) Fall Bee
October was my month for a Fall Bee so I am looking forward to putting these blocks together and quilting with a leaf design of some sort, at least that is my plan today for the quilting, of course I reserve the right to change my mind.
5) The Colorful Sampler Quilt
NuBees
is a swap I have been in the past three months and I requested rainbow blocks so I need to figure out how to put these together, with or without sashing, and if it will be a gift or a keeper.
6) Let it Snow
This is a quilt I was really excited to start and I bought a whole stack of fat quarters and diligently cut them up over the course of two weekends. Then I started to cut the Kona snow fabric and lost all interest. The finished size is 96 x 96 so there is a lot of Kona snow to cut. Since the fabric is already cut up in the dimensions of this specific pattern, I really do need to finish it and I thought for sure by Christmas 2011 this one would be completed. Nope, not happening this year.
7) Sports Quilts
I would like to make something with the Dallas Cowboy fabric for DH and I am holding the Husker fabric for something wonderful (I just don't know what yet).
8) The Terrain Layer Cake plus extra yardage is for
this
pattern from Moda Bake Shop.
9) Winter quilt for Sam
This is a winter quilt for my niece Sam. She has a purple room so I am whipping this together real quick with the use of a borrowed serger and I hope to finish sometime this week, even though I just started yesterday.
10) Fleece Blankets
These are my gifts of choice for children of my close friends this year. I hope to finish these up by Thanksgiving, I have 7 to make.
11) Bedroom Quilt
I was in love with brown and blue for a good long time, but now I am not so not sure what will happen with this. I had started a wonky log cabin to make for our bedroom but lost interest along the way. I really do love the fabrics - but this might be reallocated to a gift or a "in the car" quilt.