Do you remember the Modern She Made Swap?
The very talented Lori of
Lori H Designs
and I are getting ready for Round 3, so....if you have an active flickr photostream, love the modern aesthetic and want to swap with some pretty awesome talent, stalk
this thread
, where more details will emerge. We pick one shape per round and require that all items have this shape incorporated into it, somewhere in some way. Our first round was circles, the second round was triangles and this third round, is still up for grabs! I'm going to leave you with some of the goodies made in the first couple of rounds, just in case you need any more reasons to join us!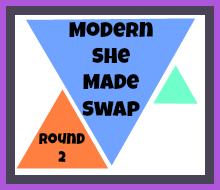 Oh yeah! I told you the ladies in here were fabulous - Hope you join us!