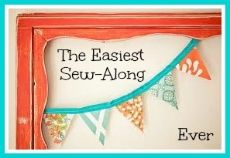 Kim, over at
Windsor and Main
has created the Easiest Sew-Along Ever. So you know me....I joined up!
This one is different. The fabric, project, measurement and supplies haven't been determined yet - I get to decide. Isn't that lovely!
So there are three rules that must be followed:
*Start where you're at
*Use what you have (yes, that does mean NO shopping)
*Do what you can
Full details are
here
but I hit the highlights!
The point is to reach outside of your comfort zone - I love it!
So....I am going to finally tackle a zip pouch. Zippers scare the you know what out of me and I am going to just "get over it!".
I am going to make a zip pouch!
First up - Join the
Flickr
group - DONE!
Second - Weekly check-ins (must post pic to Flickr group)
First one (of your fabric and/or your project inspiration) by May 6 - that's today! - You still have time - join us!
Third - Post finished project on the Flickr group by May 31st
(There are some other check in's that you have to do in the meantime, but hey - progress is good!)
Judges will look at your projects based on:
*technique
*creativity
*awesomeness
and award prizes - woo hoo!